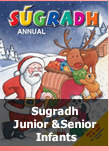 The popular Folens Christmas Annuals are available for sale in the Prep School.  They cost five euro each.  They are described by the publishers as: 'Educational and fun, each annual is bursting with quizzes and activitied, fantastic facts, jokes, fiction and non-fiction, interviews and much more.  Great competitions with bikes and stereos to be won!'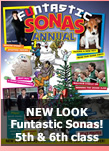 There are four annuals available, one for each age group: Sugradh is for Junior and Senior Infants; Spraoi is for First and Second Class; Siamsa is for Third and Fourth and Sonas is for Fifth and Sixth.
The annuals are available from teachers at the moment.